Features:
1. Remove off your refractory fat and reduce stretch marks

2. Make your muscles tightening

3. Wipe off your saggy skin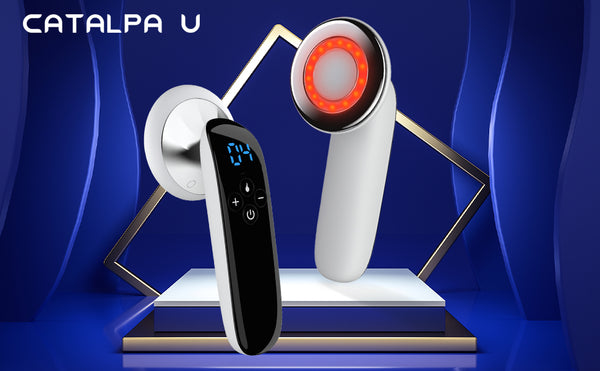 Using this device 15 to 20 minutes every day, your skin will appear glossy, focus on problem spots, reduces skin depression and lumpy fat, making lines and wrinkles unconspicuous.

This fat massager device use the same theory technology as fancy clinics, but portable, competitive price and convenient to use, you could use at home every day for 15 to 20 minutes.

Say goodbye to sport and diet, this device working by gentle and comfortable way to remove your stubborn fat cells, which always accumulate around women's thighs, hips and belly.

When touching this fat burning device on your skin, just like iron working on clothes to fix appearance flat and smooth, it will fix your skin smooth and healthy looking.



Functions: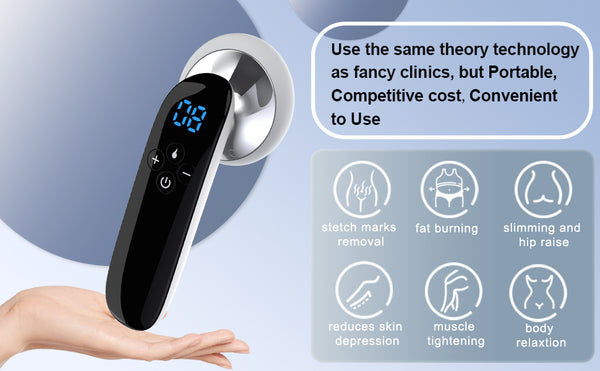 1. RF--radio frequency

2. EMS--electro muscle stimulation

3. Red LED light--red light quantum therapy
4. 37-40 ℃ Constant temperature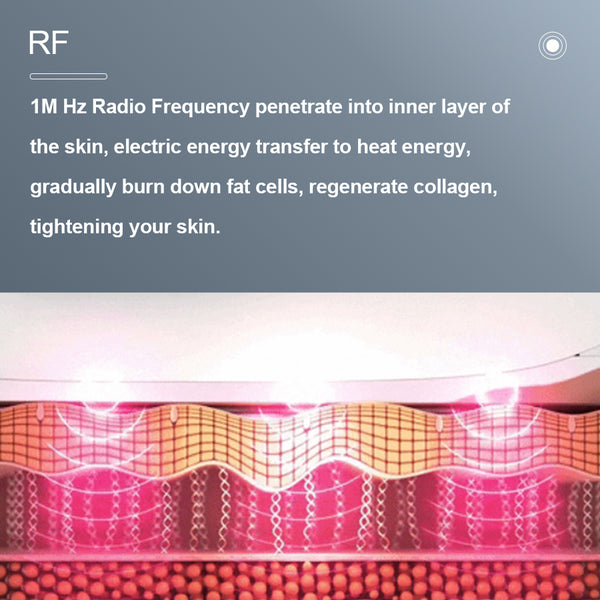 1M Hz Radio Frequency penetrate into inner layer of the skin,  electric energy transfer to heat energy, gradually burn down fat cells, regenerate collagen, tightening your skin.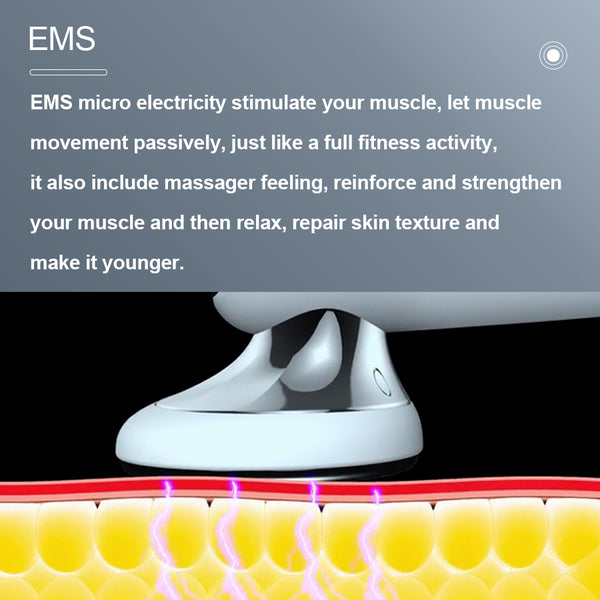 EMS micro electricity stimulate your muscle, let muscle movement passively, just like a full fitness activity, it also include massager feeling, reinforce and strengthen your muscle and then relax, repair skin texture and make it younger.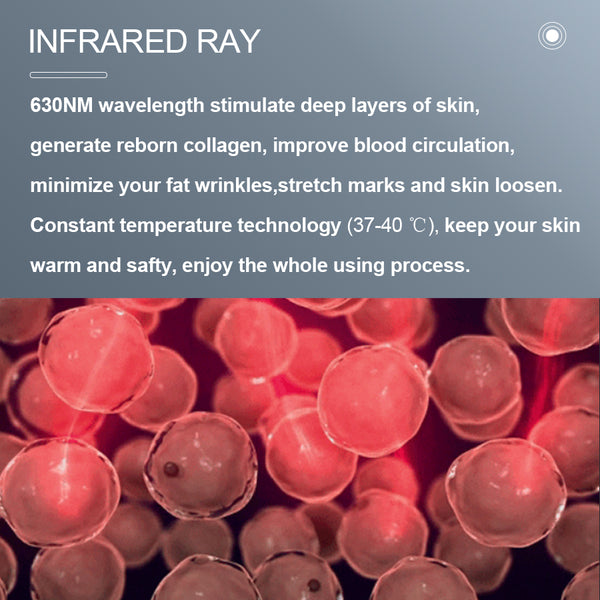 630NM wavelength stimulate deep layers of skin, generate reborn collagen, improve blood circulation, minimize your fat wrinkles,stretch marks and skin loosen.
Constant temperature technology (37-40 ℃), keep your skin warm and safty, enjoy the whole using process.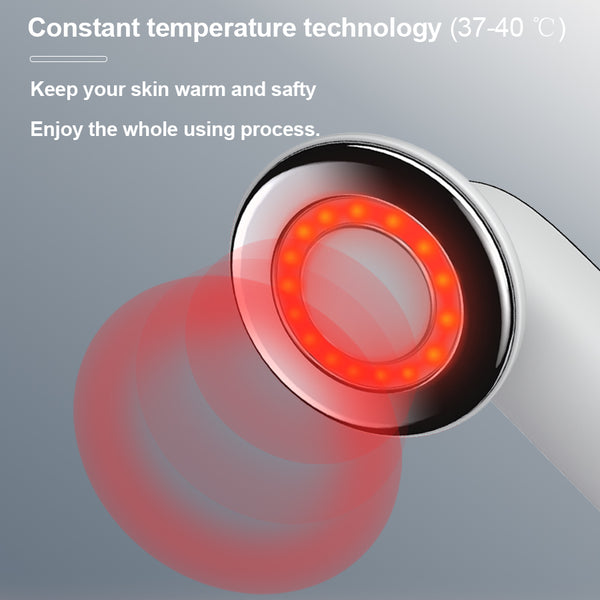 3 modes to choose: 
Dispel Lines Mode 
Use 200Hz EMS and 630(±10)nm red light to remove stretch marks, body fine lines and scars. The active part has a feeling of pulling outward.
Burn Fat Mode
Use 30Hz EMS, 1M Hz RF and 630(±10)nm red light to remove stubborn fat in various parts of the body. There is a sense of hammering and heat at the action part.
Lift Skin Mode
Use 300Hz EMS and 630(±10)nm red light for lifting and tightening loose muscles in various parts of the body. The action part has a feeling of pulling inward.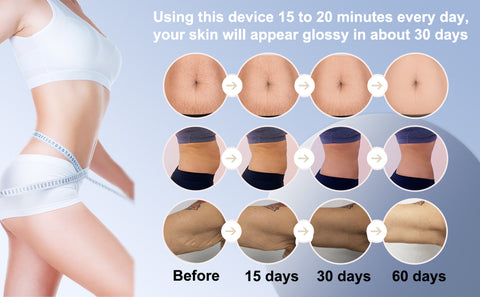 How to use ?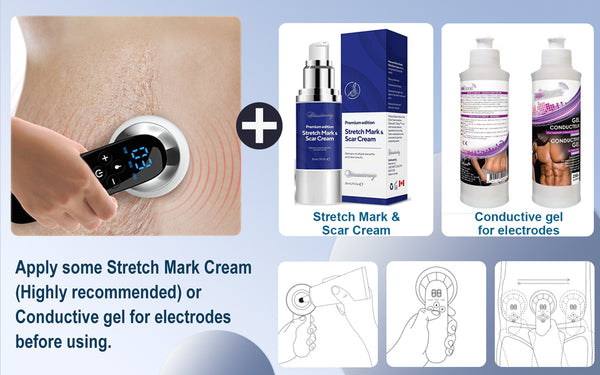 Apply some cream or gel or body oil on your skin before using this device.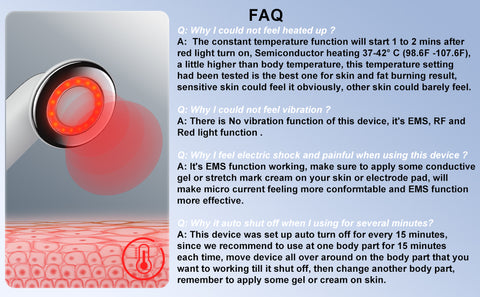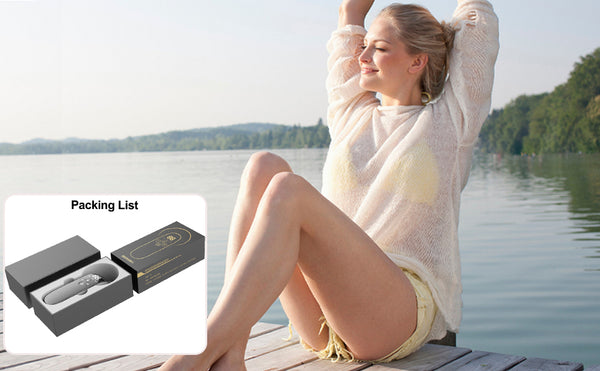 You could also buy from Amazon.com: 
Seems promising
I like what I'm seeing so far. This is basically a 3-in-1 device for cellulite removal, fat burning and stretch marks removal. It is compact, lightweight and easy to use. Pretty sturdy and well made too.
I'm using the B-Fat mode for fat burning on my belly. I apply a conductive gel that I got from a local store, run the device in little circles slowly over my jelly for 15 minutes. I can feel what appears to be a subtle tightening sensation under the skin. It also has a red light heat option which helps with blood circulation.
It is said it will take weeks of use for 10-15 minutes a day before seeing a visible results. It is easy enough to use and feels pretty good on my belly. Be sure to use a conductive gel since it is basically a special EMS device for beauty use. It can be used on the abdomen, back, arm, leg, etc. but not the face.
One issue I have with this device is that a single charge doesn't seem to last long. I could get maybe a couple of uses out of it before needing to recharge it again. Not sure if it is just mine.
Overall, this device seems promising. It is compact and easy to use. I could feel a subtle tightening sensation under the skin. It seems like it is doing something and hopefully the results are more noticeable over time. I'll give it 4 stars for now.
Very good
I was not a big believer of fat burning machine in the very beginning. However after doing some research and getting a better idea of the theory behind this kind of machine, I think it makes sense.
This device is portable, with light weight. It is very convenient to be taken around, and to be used at any locations, either at home or during trips. It has ergonomic handheld design, comfortable to hold.
I'm using it everyday. It is easy to use. I like its massaging and heating effect, very relaxing and comfortable. I know nothing is magic. This device is great, and it can help tightening my skin and burning fat faster, but at the same time, I am keeping my workout routine. It would be slow to see obvious effect if just purely relying on this but just sitting there not doing anything else active. But by combining my exercise with this machine, I am very pleased to see the improvement.
Need to use it consistently to see results
The package came quickly and I started using it on my belly, thighs, and my double chin. Within a few weeks, I could tell that the device was really working. I lost a good 2 inches around my waist in a few weeks and my double chin have almost completely gone away. Combining this machine with exercise (3-4 times a week) I have lost about 10 pounds and my cellulite has reduced significantly! When you use this you can really feel the fat breaking down and your skin getting tighter. At first it might feel a bit weird like a weird itchy feeling but it goes away after so you shouldn't worry about it. I think it is the initial fat cells breaking down and your body flushing them out of your system.
A product that takes time
Nice massager device that promotes weight loss and disappearance of cellulite. Think this requires also some personal behavioral changes as well to get the actually benefits this suggest. Its rechargeable allowing to use it basically anywhere without limiting yourself to wires and pretty simple to use. I suggest reading over the manual to get the appropriate setting you would like. It has a micro pulsating feel. Its almost undetectable when I used this. I felt kinda felt like a minor sting feeling, as in an electric jolt. I wish it had more features as an actually massager too. This takes times this product so if you have the time and you are pretty consistent I can see it helping, but requires being strict with use. The red light part is pretty nice it gets descently warm & effective for helping with muscle pain. Its expensive for the product being pretty lightweight would been better if a bit more heavier duty.
This does arrive shipped sealed in seran wrap for tamper proofing
It is working (although very slowly) but time would tell
I ordered the Catalpa U Fat Burning Machine Stretch marks scar Removal for my wife. Primarily she wanted to get rid of the surgical scars on her abdominal area. Also, she has couple of fatty bumps that she thoughts this device might help.
First thing to remember is that you need a conductive gel for the unit to work.
The unit is light and easy to use.
She has been using this unit for almost 8 days; using it once a day for 1 hour total (30 minutes for scar removal and 30 minutes for fat burning minutes).
So far, she has seen promising results for scar removal. The scar looks more lighter in color.
As fat reduction, no significant reduction has been noticed.
One area that needs improvement is the display area which needs to be brighter so the operating mode can be read easier.
She will continue using the unit for the weeks to come and I will update this review if anything changes.