Review Belkin Magsafe car mount and other charging mounts
Today we're taking a look at the belkin magsafe car mount and comparing it to some charging capable competitors

Let's starting with the belkin car mount, it actually looks pretty premium, you've got the mount on the back, it's not detachable. It just spins and swivels. While it looks like the picture i'm actually surprised at the quality here, it seems like more of a hard plastic than i originally thought that it would be, so it almost seems cheaper than what i'm expecting on this model.


Of course it does have to be plastic so that you can mount an iphone to it.

Let's just see that mounts into place I can shake it, it doesn't seem to align perfectly in the center, but it is relatively stable no matter what direction you're going into, it's not really going to fall off.


It does turn you're able to mount it in portrait, or you're able to mount it in landscape, depending on the orientation that you're going to be using in your car, and it also has a section in the back here where you can slip your cord into for easy cable management, if you want to hook a cord in there, because this thing does not have a charging port.
Whatsoever so it's strictly just magnets on the inside that are going to allow it to mount to this device, but it will not have charging capabilities, so i can say so far it's been pretty stable going over bumps or potholes has been fine, or you may get into trouble is if you're using third-party cases, or if you have the heavier iphone 12 pro max model, but so far the iphone 12 pro with a magsafe case that also has magnets built in has been perfectly stable.

The one thing missing on this device which we've already sort of touched on is the lack of any sort of charging port.

It seems like a bit of an oversight considering the amount of people, who are going to want to mount their device and charge it, however if you're using wire carplay, then this will be no problem for you, because you're going to be used to plugging in your phone to your dash.



Anyway because this device is lacking that functionality i thought we'd take a look at a couple of other competitors that do both mounting and charging.


Below three items are third-party magsafe compatible accessories. I'll leave a link in the description if you're interested.

The first one iphone 12 pro max car mount charger is the black model which is the drive by Magsafe, it's a very plastic model, we've just got this simple ball mount here, which we can twist out. Just like that and then twist it back that on and that's it.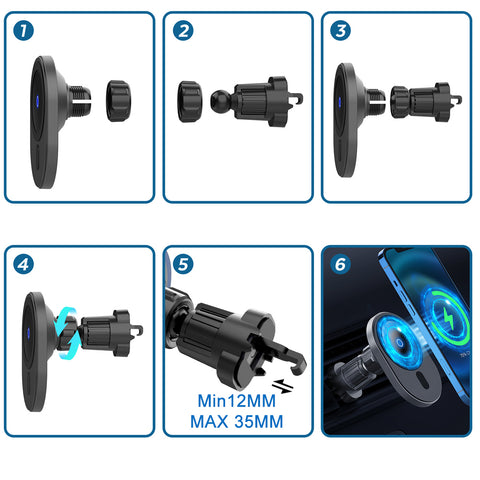 It's got a very secure mount, on the edge of it with a little line to hook in so that it's not going to fall off, it seems fairly stable right now.
At the bottom we've got a usb-c port so you can see here, it comes with a compatible usb-c cable, we're able to plug that directly in here and the mounting itself actually snaps in pretty snug, actually more than the belkin model did itself, you're going to be able to take that portrait or landscape.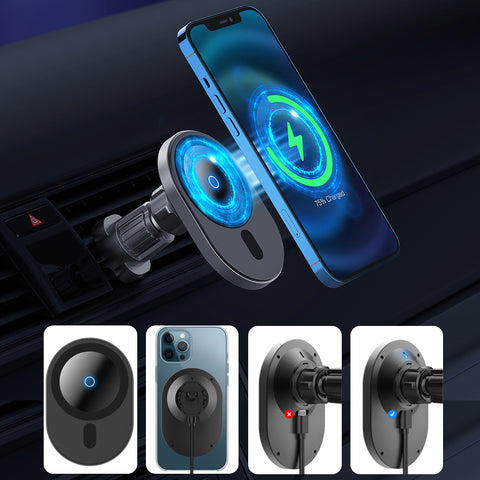 If you want to another thing included in this box is a dash board sticker, that's going to allow you to mount this on your dash instead of in the vent clip.

If that's not what you're interested in, you can see here we can just change the orientation of it, and lock it into place like.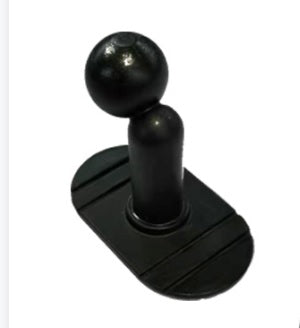 The next one Blue magsafe car mount charger , we're going to take a look at here is a more circular edition, looks like stainless steel aluminum on the sides, it's claiming the 15W Magsafe wireless charging, and it's round, a bit more modern to a degree, so here's the actual mount itself you can see it does have more of an aluminum feeling finish, blue color,  it's got the curved edges here, which is really nice fits in with a lot of different apple products on the front, it's black and blue,  and feels a little more plasticky to a degree, but not so much that, it feels good quality and on the back it's the same connection as that previous black model.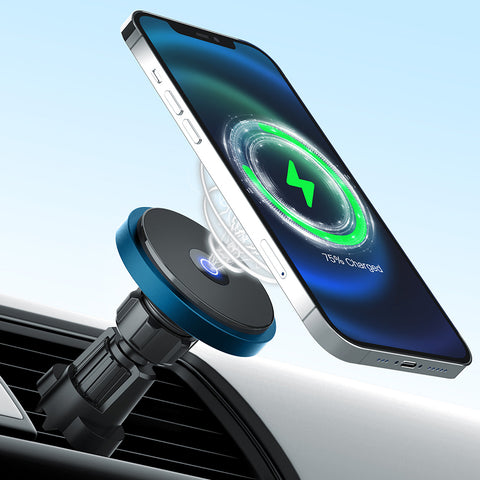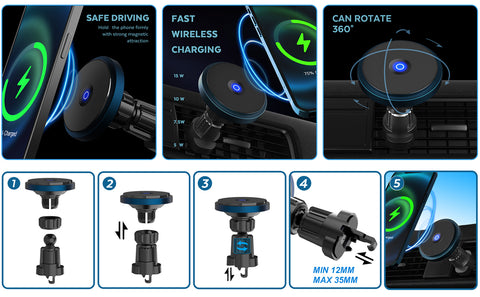 We were looking at was just a standard ball mount which you can clip in on the bottom. We've got that usb-c which it's coming with here in the box, so you can just plug that in just like that, and then it's also going to charge for you and i think it's got very similar magnets to that model. It's just as sturdy, really not going to fall off.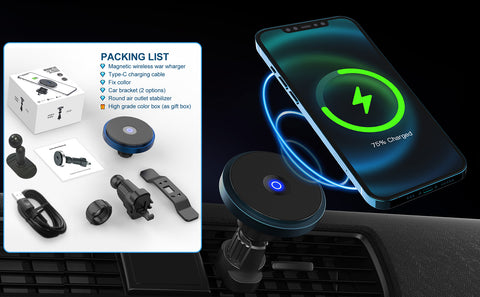 The last model wireless car mount charger for iphone 12 is a very similar model, this is the drive pro by magsafe, it's our biggest competitor to the actual belkin model here you can see.
It's that black kind of round look, but this one's going to charge with Magsafe.
It's very similar to what we were expecting with the belkin mount that we already saw, very simple and the cable is not detachable. 

We've got the same kind of plastic finish as the circular model. We've got usb cable attach, so this one is going to charge at the full 15W. On the back we've got that ball mount, which you could change out for a dash board sticker if you wanted to.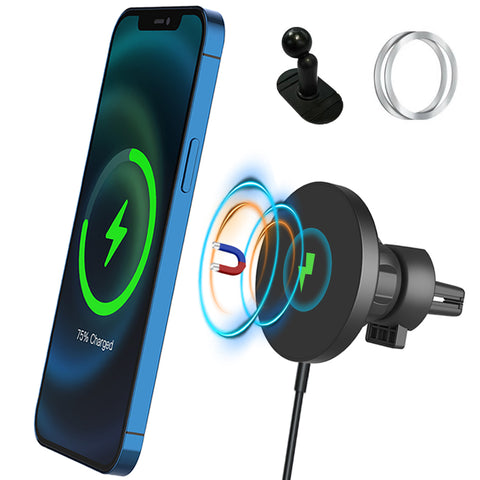 It's very sticky it seems like it's not going to fall off or it's not going to go anywhere whatsoever. It's a really good competitor to that belkin mount if you're looking for something that's going to charge.

I found that when charging using these magsafe animation only shows up some of the time, and you have to have it plugged in almost to warm up for a little while before using it, so you'll see here that when i go to plug this in, I've had it plugged in for a while, now so it has a bit of a charge, when connect that and you see the Magsafe animation does show up, however if i try this one which i just plugged in and didn't give it a lot of time, and I go to use it there, it does not show the animation but if i leave it for a while then it will show out.

All of these models i would say, your best bet if you're looking to mount and to charge at a decent price would be the drive model which is this black one. It comes in a bunch of different colors, it is the cheapest option that I think you're going to find on the market, and it also charges so at least.

Do you want the belkin mount or do you trust these third parties like the Magsafe brand, who deliver a bunch of different options?